Earning free online mobile recharge is just like earning money online as everyone spend at least INR 100 to INR 500 monthly on mobile recharge. There are number of sites that promise you for free recharge and we will discuss here about 5 such sites.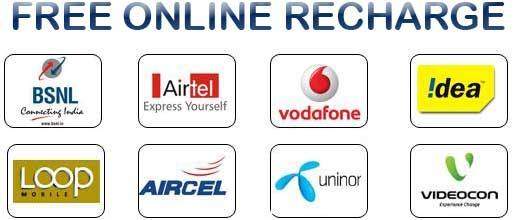 Top 5 sites for free online recharge
So lets discuss about five websites where you can earn free online recharge.
You must have heard about way2sms and its free SMS service. Millions of people use this site to send free SMS. Now you can also use Way2SMS to earn free online recharge.
Just create an account at Way2SMS.com and then login to your account. After login, you will see the tab for 'Email & Win' and 'Share & Win'. Just click there and check the instructions to participate in free online recharge scheme.
You can also track your earnings from 'My Earnings' tab. You can recharge your prepaid mobile once you reach the minimum balance of INR 10.
One of India's largest mobile payment network, Mobikwik connects around 40+ million users with 2,50,000+ retailers. The Mobikwik wallet allows users to recharge their mobile phones, pay their utility bills, shop at various retailers and also transfer money in bank accounts.
The product is an artificial intelligence-powered chat bot which works as an intelligent personal assistant, named Niki. Leveraging natural language processing and machine learning, Niki presents a chat-based The company currently provides 20+ services to over 2 million consumers, covering a wide spectrum ranging from utility services like mobile recharge, bill payments, travel services like cabs,buses, hotels and entertainment services like movies and events. Services such as flights and healthcare are also planned.
From being a mobile recharge solution to a full-fledged e-commerce store and now the frontrunner of Cashless India mission, Paytm has come a long way in a very short time. With Paytm, you can recharge phones, DTH cards; pay bills: landline, mobile, gas, water et al, book flights, trains, cabs, hotels; pay insurance premiums, school fees and more. Apart from that, Paytm also offers its customers a wide range of products across categories like fashion, electronics, home décor, automobile accessories, musical instruments etc.
Bharti Airtel Limited is a leading global telecommunications company with operations in 20 countries across Asia and Africa. Headquartered in New Delhi, India, the company ranks amongst the top 4 mobile service providers globally in terms of subscribers. In India, the company's product offerings include 2G, 3G and 4G wireless services, mobile commerce, fixed line services, high-speed DSL broadband, IPTV, DTH, enterprise services including national & international long distance services to carriers.