Best Instant Cameras to Have in 2021
Instant cameras (also known as Polaroid cameras) are devices that use self-developing film to print photos right after they're taken. Before DLSRs, point-and-shoot cameras, and smartphones, instant cameras were one of the most advanced types of camera equipment. But they were rendered obsolete by the rise of digital photography.
The popularity of vintage items has led to a comeback of the beloved gadget in recent years. This special device appeals to young shutterbugs because it satisfies the desire for instant gratification. Plus, who wouldn't want a camera that offers instant photo printing? Nothing compares to having a tangible memento of life's most special moments.
The Best Instant Photo Cameras for 2021
Whether you're looking for the best Polaroid camera or a great model from another brand, you're sure to find the right camera at your preferred price point from our list:
Fujifilm Instax Mini 9
Polaroid OneStep 2
Fujifilm Instax Wide 300
Polaroid Originals 600
Lomography Lomo'Instant Automat
Fujifilm Instax Mini 70
Polaroid Snap Touch
Leica Sofort
Fujifilm Instax Square SQ10
Fujifilm Instax Hybrid Mini LiPlay
The Instamax 11 introduces a few key upgrades and improvements, like automatic exposure settings, allowing a better balance between subjects illuminated by the flash and by natural light. This feature will allow you to take great photos in any environment. The Instamax 11 also features a selfie mode for easier self portraits of you and your friends. There's even a small mirror so you can make sure everyone is in the frame before you shoot.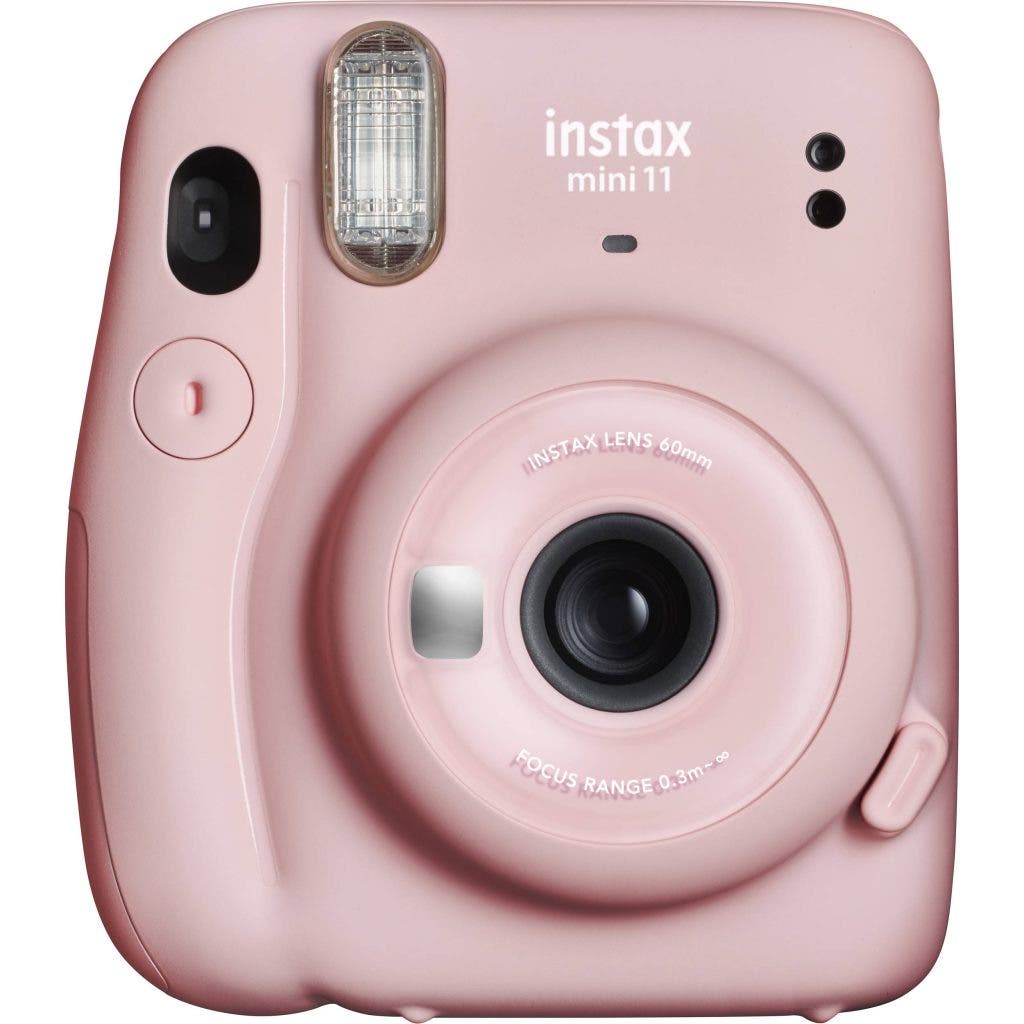 With five colors to choose from and two interchangeable shutter buttons included in the kit, the Instamax 11 gives you plenty of ways to customize your new instant camera!
No camera offers retro charm the way a Polaroid Original can. The OneStep 2 instant camera blends classic and contemporary elements, taking inspiration from Polaroid's original OneStep. It's been updated for ease of use. Some modern twists include a USB port that lets you charge the battery.
The OneStep 2 is an I-type camera with a high-quality lens and a powerful flash for great photos. Its enhanced viewfinder makes framing your photos more intuitive than ever. And since the camera comes with a rechargeable battery, you can rely on the OneStep 2 to take great photos.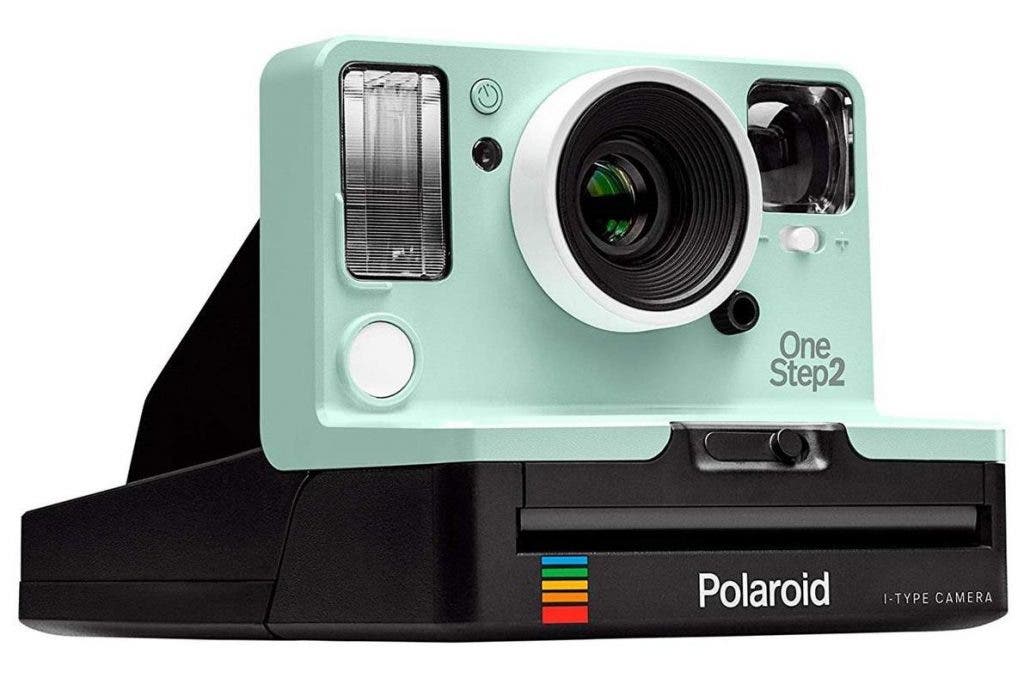 Features:
Dimensions: 150 mm (L) x 110 mm (W) x 95 mm (H)
Polycarbonate + ABS plastics Outer shell
Optical grade Polycarbonate and Acrylic lenses (coated)
Lens: fixed focus lens / 0.6m — infinity
Focal length: 106 mm
Field of view: 41 degrees vertical, 40 degrees horizontal
Weight: 460 grams / 1 lb (excluding film pack)
Vacuum discharge flash system
High-performance rechargeable lithium-ion battery (1100mAh)
Tripod mount on the base of the camera External viewfinder barrel
Compatible Film:
I-type film is considered to be a new generation of instant film, which means you get crisp, clear, and color photos with your OneStep 2. It uses advanced chemistry to provide richer tones, colors, and contrasts than previous types of Polaroid films.
Fujifilm Instax Wide 300
The Instax Wide 300 is about the size of an old-fashioned medium format rangefinder camera. Despite its large size, it's lightweight and easy to grip. A spring-loaded switch around the shutter release extends its 95mm lens. And unlike the Instax mini, it uses Instax wide film packs, making its photos closely resemble standard prints.
Even though it's a rather chunky gadget, the camera is easy to hold and use. Since the Instax Wide 300 has a format that's significantly larger than a digital sensor, it equates to a wide-angle lens. But for a big camera, it has a small viewfinder than can take practice before you can properly align your eye with the eyepiece.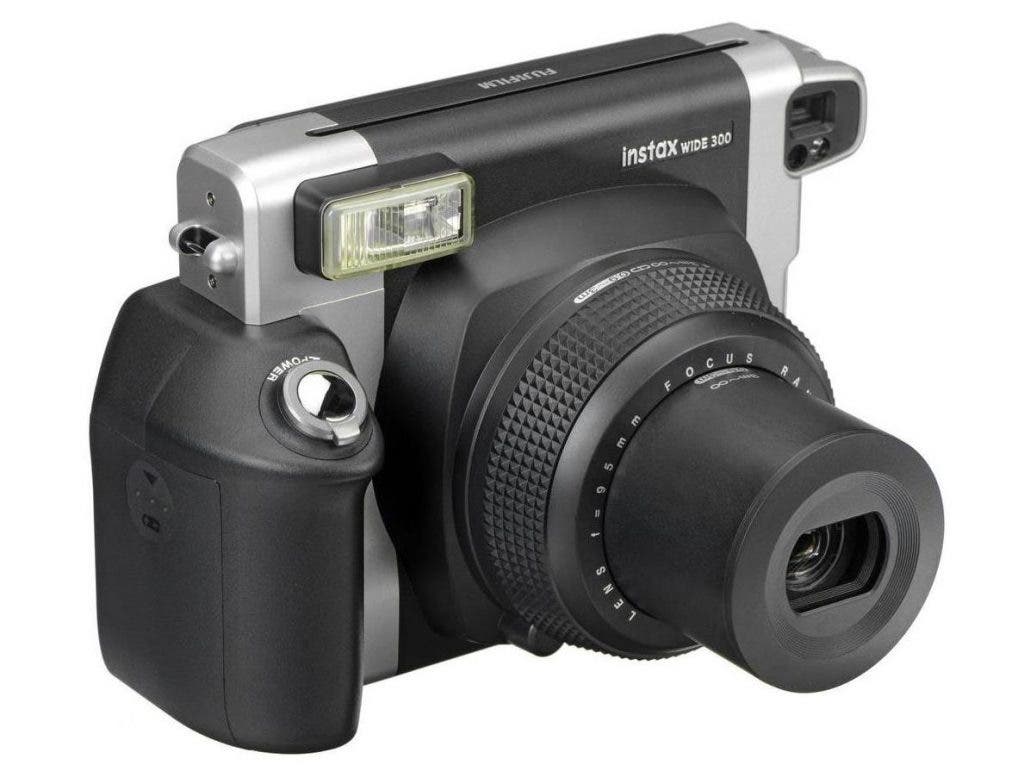 Features:
Picture size: 99 x 62mm Retractable 95mm f/14 lens with two-range, motor-driven focus zone setting
Shooting/Focusing range:
Motor-driven 2-Range Switching (0.9m to 3m / 3m to infinity)
Normal Mode (0.9m to 3m)
Landscape Mode (3m to infinity)
Shutter speed: 1/64 to 1/200 sec 0.37x
Optical Viewfinder with Target
Spot Built-in flash with Charging Indicator and Fill-Flash Mode Small built-in LCD screen
Additional close-up lens adapter Accepts Fujifilm Instax Wide instant color film
Accepts four AA-size batteries
Dimensions: 167.8 x 94.7 x 120.9mm Weight: 21.59oz
Compatible Film:
The Fujifilm Instax Wide 300 is compatible with a specially made film, the Instax Wide Instant Color Print Film. It has an ISO of 800 and offers vibrant colors, sharp grain, and extended temperature range.
The Fujifilm Instax Mini 9 is the perfect choice for penny-pinchers or parents shopping for their kids. Since it's one of the most affordable instant cameras available on the market, you won't feel so bad when your kids accidentally break it or use up packs of film like sticks of chewing gum.
It has a large plastic build that lacks the sophisticated controls that pricier models have, but its big buttons and bright colors offer visual appeal and ease-of-use for small-fingered shutterbugs. It contains a built-in flash so you can take hassle-free photos in the dark, and includes a front mirror that helps you take decent instant selfies. Its simple point-and-shoot operation also means you can change shooting modes with a turn of the lens ring. If you're a beginner photographer seeking a cheap Polaroid camera, this is the best instant camera for you.
Features:
Lens: 60mm f/12.7
Picture size: 6.2×4.6cm
Minimum shooting distance: 35cm
Shutter speed: 1/60 sec
Exposure modes: Sunny, Cloudy, Indoor, and Hi-key Dimensions and weight: 116mm x 118.3mm x 68.2mm / 307g
Built-in flash Optical viewfinder
Selfie mirror Close-up lens attachment
High-key mode Brightness adjustment dial
Compatible Film:
The Fujifilm Instax Mini 9 instant camera accepts all Instax Mini film variants. The most commonly used is the Instant Daylight Film, which is used for natural lighting and artificial lighting. Other variants include Monochrome, Rainbow, Shiny Star, and Candy Pop.
Polaroid Originals 600
Want an affordable yet functional camera similar to the Polaroid? Impossible, the company behind Polaroid Originals, picked up where the brand had left off, creating timeless retro instant cameras like the Polaroid Originals 600. To this day, Impossible carries Polaroid's tradition and sells refurbished, authentic Polaroid cameras to its loyal customer base of camera collectors and vintage enthusiasts.
As a basic point-and-shoot, it isn't the most compact or travel-friendly product, but if you love the iconic boxy design of classic Polaroid cameras, this is the ideal choice. One of its useful features is its Frog Tongue, which shields your film from light. This way, you can maintain the quality of your film.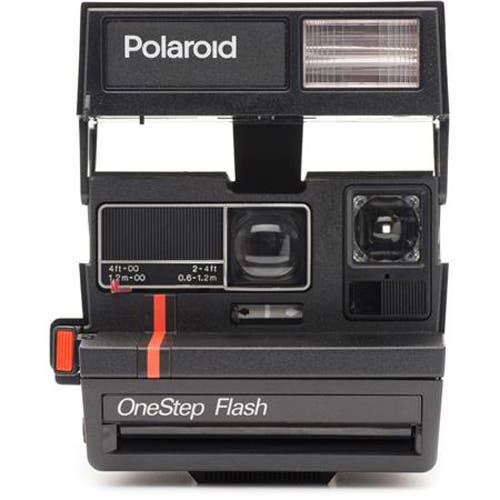 Features:
Picture size: 79 x 79mm 106mm f/14- f/42 fixed focus lens
Shooting/Focusing range: 4ft to infinity
Shutter Speed: 1/3 to 1/200 sec
Built-in automatic flash
Accepts Polaroid 600 Type film Accepts batteries in film packs
Compatible Film:
The Color 600 Film is the original film type for vintage Polaroid 600 cameras. It captures photos in vivid color, texture, and tone and frames them in the iconic white border that makes every Polaroid photo a true masterpiece.
The Fujifilm Instax Mini 70 is a pocket-friendly instant camera packed with useful extra features such as a retractable lens, a tripod mount, an optical viewfinder, and a self-timer. It also includes a small mirror that helps you take better selfies. It takes your selfie game to the next level through its Selfie Mode, which automatically adjusts the brightness and focal length needed for your photo.
Controlling background light is so much easier with the Fujifilm Instax Mini 70. Its high-performance flash calculates the surrounding light and adjusts the shutter speed accordingly. Its high-key mode also allows you to capture bright and beautiful skin tones.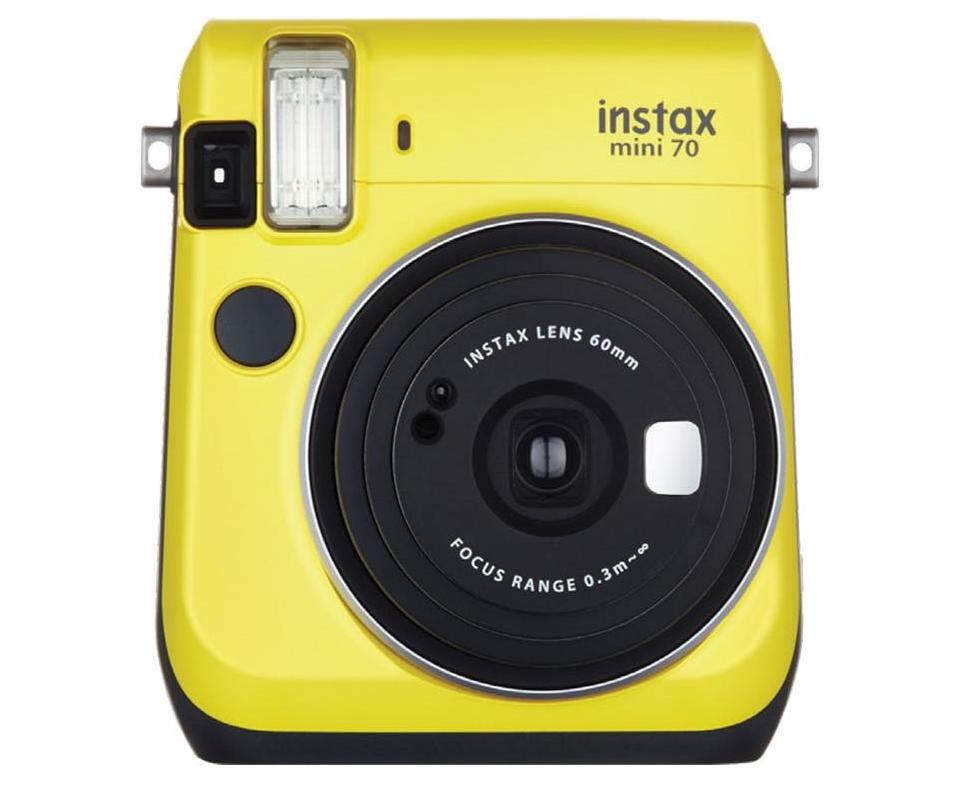 Features:
Picture size: 62 x 46mm
Retractable Fujinon 60mm f/12.7 lens Shooting/Focusing range:
Motor-driven 3-Range Switching (0.3m to 0.6 m/0.6m – 3m/3m to infinity)
Macro Mode (0.3m to 0.6m) Normal Mode (0.6m to 3m) Landscape Mode (3m to infinity)
Shutter speed: 1/2 to 1/400 sec 0.37x Optical Viewfinder with Target Spot Automatic exposure control Selfie Mode, Macro Mode, Landscape Mode, and Hi-Key Mode Built-in high-performance flash with fill-in flash Built-in tripod mount and selfie mirror Accepts Fujifilm Instax Mini Instant Film Accepts two CR2/DL CR2 lithium batteries Dimensions: 99.2 x 113.7 x 53.2mm Weight: 9.9 oz
Compatible Film:
The Mini 70 camera uses the Fujifilm Instax Mini film pack (Purchase this item). It is available in other variants, including Rainbow, White, Monochrome, Black, and more.
Lomography Lomo'Instant Automat
The Lomography Lomo'Instant Automat camera is jam-packed with features and is incredibly easy to use. Its Automat glass helps boost the quality of your shots (especially if you opt for the Magellan edition). This fully analog camera has features that other Fuji-made cameras omit, such as long exposures and multiple exposures.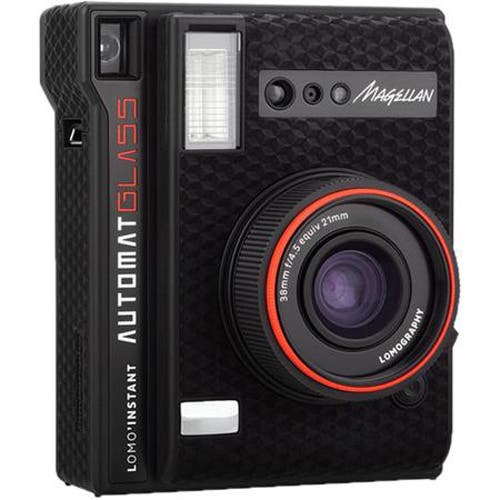 Features:
Dimensions: 118,90 (W) x 93,60 (L) x 60mm (D)
Exposure Area: 62mm x 46mm
Lens Focal Length: 60mm (35mm equivalent)
Automatic Auto exposure
Aperture: f/8, f/22
Film Format: Fujifilm Instax Mini Motorized Film Ejection Unlimited Multiple Exposures Automatic Flash & Flash Off Mode Infrared Remote Control Transmission
Compatible Film:
The Lomo'Instant Automat uses the Fujifilm Instax Mini Film. This means you can capture memories wherever you go! Reach the pinnacle of creativity and start taking bold, brilliant, and sharp photos.
Polaroid Snap Touch
The Polaroid Snap Touch Instant Print Digital Camera lets you snap, print, and share life's greatest moments. It features Bluetooth connectivity for easier photo transfer. The camera features a sleek design with curved edges and a magnetic lens cap.
Unlike the original Polaroid snap, the Snap Touch allows you to preview your images through its LCD touchscreen. This means you have the option not to print some photos. Its built-in printer prints your photos on premium, adhesive-backed photo paper. You can also connect the camera to the Polaroid Print App, allowing you to edit your photos.
Features:
Picture size: 76.2 x 50.8mm (2 x 3 in)
3.5-inch LCD touchscreen viewfinder
13 megapixels
Full HD 1080p video recording
Bluetooth connectivity
Photobooth Mode and Burst Mode
In-camera filters, borders, and digital stickers
Built-in self-timer and selfie mirror
Built-in printer with ZINK® Zero Ink technology
Micro USB port and microphone speaker
Accepts Polaroid Premium ZINK photo paper
Built-in rechargeable lithium-ion battery
Compatible Film:
Since the Polaroid Snap Touch is a digital instant camera, it doesn't use film. Instead, it uses Polaroid Premium Zink Paper (Purchase this item) specially made for Snap Touch's ZINK® Zero Ink built-in printer. The photo paper is resistant to water, smudges, and tears. It also instantly dries up once expelled from the camera and features a peel-off adhesive back.
Leica Sofort
Owning a Leica is every shutterbugs' dream. Even though it's known as an expensive brand, the Leica Sofort is the company's first instant camera and it comes with an affordable price tag. Fun and fashionable, the Leica Sofort's chief appeal lies in its iconic red badge.
It boasts an efficient design, keeping the on/off button on the backplate to avoid accidental activation.
The only top-plate button you'll find is its shutter-release control for a cleaner, sleeker look. The LCD displays operational settings through simple icons, and the camera also includes a selfie mirror, an optical viewfinder, and a built-in flash. Its shooting modes include Macro, Bulb, self-timer, Party & People, Sport & Action, Double Exposure, and selfie mode. If you prefer to take point-and-shoot photos, on the other hand, you can use its fully automatic mode.
Features:
Picture Size: 62 x 46mm Automatik-Hektor 60mm f/12.7 lens
Shooting/Focusing range: 3 focus steps, 0.3 m to infinity
Macro: 0.3 to 0.6m Standard: 0.6 to 3m
Landscape: 3m to infinity
Shutter speed: 1/8 to 1/400 sec 0.37x optical viewfinder with Target Spot and Parallax Compensation for Macro
Eight shooting modes: Automatic, Selfie, People Party, Action Sport, Bulb, Macro, Self-Timer, and Double Exposure Exposure compensation: -0.7 EV, 0.0 EV, + 0.7 EV
Automatic Exposure Control: LV 5.0 – LV 15.5 (ISO 800)
Three-step Manual Focus System Built-in tripod mount and strap lugs
Accepts Leica and Fujifilm Instax Mini instant film Comes with a rechargeable battery and a charger Dimensions: 124 x 94 x 58mm Weight: 10.75oz
The Leica Sofort accepts all instant film variants in the Instax Mini Format. Choose from Leica-branded instant film in full color and monochrome (Purchase this item), or anything from the Fujifilm Instax Mini Instant Film line.
Compatible Film:
Fujifilm Instax Square SQ10
The Fujifilm Instax Square SQ10 has a boxy yet rounded appearance, so it can't be described as a pocket-friendly camera. But compared to other instant cameras, it features a sleek design. As an analog and digital camera hybrid, it lets you preview your images before printing and provides a digital backup of your files.
The camera is the first instant camera in the history of Instax to produce square photos. Expect sophisticated, square photos with a retro look. So whether your favorite subjects are landscapes or portraits, the Instax Square SQ10 provides dramatic framing with true-to-life colors.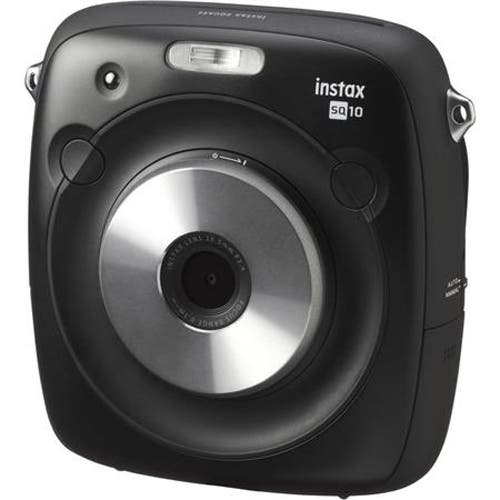 Features:
3.7 Megapixels 1/4″ CMOS Sensor
Max Resolution: 3.7
MP: 1920 x 1920
Lens: 35 mm
Equivalent: 28.5mm
Aperture: f/2.4
Focus Range: Auto: 3.94″ to Infinity / 10.01 cm to Infinity Shutter: 1/2 to 1/29500 Second in Auto Mode, 10 to 0 Second in Bulb Mode 3.0″ LCD Rear Screen (460,000 Pixels)
Dimensions (W x H x D): 4.7 x 1.9 x 5.0″ / 119.0 x 47.0 x 127.0 mm
Compatible Film:
Since the SQ10 prints square format photos, it uses Fujifilm Instant Instax Square Film, which offers stunning visuals and can easily fit in a wallet, purse, or mini photo frame.
Fujifilm Instax Hybrid Mini LiPlay
The Fujifilm Instax Hybrid Mini LiPlay is part of a new generation of hybrid instant cameras. It's the smallest and most lightweight hybrid camera Fujifilm has produced so far, making its pocketable form factor one of its biggest strengths. It also works both as a camera and a printer, allowing you to print photos from your phone as long as you have the mobile app.
The camera is equipped with a 2.7-inch display that previews your image. This way, you can frame scenes perfectly and adjust the lighting to your preferences. There are 30 frames to choose from, and you can even use its Remote Shooting function to take photos while standing away from your camera. Moreover, the LiPlay includes a unique Sound function that lets you play a voice clip through a unique QR code embedded in the Instax Mini print.
Features:
Focal Length: 28mm (35mm Equivalent Focal Length: 35mm)
Maximum Aperture: f/2
Focus Range: 3.94″ to Infinity / 10 cm to Infinity
Shutter Speed: 1/8000 to 1/4
Second Built-In Flash
Dimensions (W x H x D): 3.25 x 4.84 x 1.44″ / 82.5 x 122.9 x 36.7 mm (Excluding Protrusions) Weight: 8.99 oz / 255 g Effective pixels: 2560 x 1920 Image sensor: 1/5″. CMOS with primary color filter
Compatible Film:
The Instax Hybrid Mini LiPlay is paired with the Instax Mini White Instant Film (Purchase this item) and comes in a handy cartridge. The film offers stunning photos that you can easily fit into a wallet, purse, or mini picture frame. Instax will ensure top-quality photos with its sharp, clear reproduction, vivid colors, and natural skin tones.
Is Polaroid or Fujifilm Better?
With Polaroid and Fujifilm as the established top players in the instant camera market, it's common to wonder which company offers the best cameras in terms of image quality, performance, and product options. While the name Polaroid is synonymous with an instant photo because they helped launch the industry, it's important to remember that the current Polaroid company isn't the original manufacturer from decades ago.
Polaroid models tend to come in at a higher price point than Fujifilm instant cameras. They also look and feel a little less like toy cameras than their Fujifilm counterparts. That said, the image quality is relatively comparable from one company to the other.
If you're looking for a fun, durable toy camera with instant printing, Fujifilm is a great choice. For photographers who prefer more of a retro look with the classic name, a throwback look, and plenty of film options to choose from, Polaroid is a great choice.
Are Instant Cameras Worth It?
Instant cameras have been popular for decades for a reason. There's a certain gratification in being rewarded with a physical print right after you take the photo. When Polaroid first came out, that instant access was revolutionary. Now with the pervasiveness of digital photography, we can achieve a similar instant gratification from other sources. Instant camera prints will never stand up to the same quality as professionally-printed images taken with a more robust camera. But if you're looking for a fun spin on photography with a quick, easy, and tangible result, instant cameras are definitely worth the price of admission.